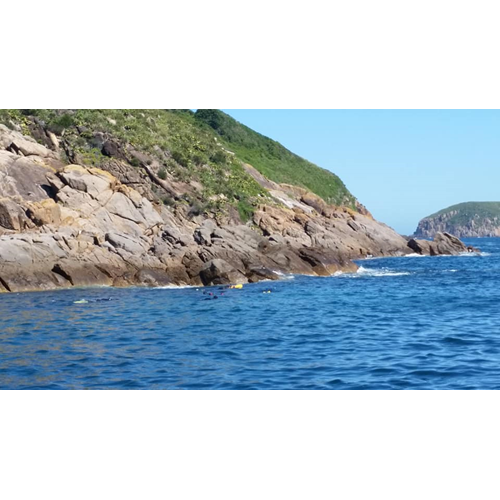 Lets Go Adventures
Snorkel Boat trip
Stock No. BD1SNOG
The location will depend on snorkeler request and experience after consideration of the conditions on the day. We will choose the site that we believe you will enjoy the most!
Below are just some of the options:
Fingal Island (14m)-Only fifteen minutes from Nelson Bay, Fingal Island features pinnacles, drop offs and abundantly colourful sponge gardens. Fish and invertibrate life is extensive, ranging from tiny nudibranchs to schooling baitfish, morwong, friendly grouper and turtles. Fingal also has quiet rocky bays diveable in almost all conditions and haven for breeding Port Jackson sharks in late winter and spring.
Boondelbah Island (12-30m)-Boondelbah offers protected waters with sheer walls, tight swim throughs and caves which provide a haven for bream, drummer and the inevitable blue groper. During summer you will also encounter large schools of mullaway and big snapper. A colourful sponge garden on the south west corner drops away into deep water. While offshore winds during winter encourage us to dive the sheer walls on the eastern side of the island, Safety Bay on the southern end of the island is a perfect summer training location with total protection from the prevailing northeasterly winds.
Cabbage Tree Island/Little Wreck (12-14m)- A calm, and safe training location. Shallow rock walls drop off to sand in no more than twelve metres on the south western side making it a comfortable dive for the inexperienced and a safe location for diving when the strong northeasters blow during summer. At this site divers will see the rare doughnut nembrotha, wobbiegongs, eels, blue groupers, schools of bullseyes, yellowtail and old wives. This site also hosts the statue of the naked lady.
To join our boat snorkeling tours you should be comfortable swimming up to 200m without touching the bottom as this is commonly how far away from the boat we explore.
While we can provide buoyant wetsuits and vests, these are to increase your comfort and relaxation, and are not to be considered an adequate substitute for ability to swim. We do have shore based snorkel options if you are still gaining confidence and experience in the water.
The priority is to safely have fun, so please be honest about your swimming ability.
How old do I need to be?
There is no specific minumum age, though we do ask that parents accompany children under 8 years old, and that children should be comfortable with being in the water, and be able to meet our swimming requirement above if joining a boat trip.
Please pack a towel, swimwear, sun protection and bring lots of energy ready for fun!
If you have any snorkeling equipment of your own you are also welcome to bring and use it. We have quality equipment in hire and you are also welcome to purchase your own personal equipment in our store so we can guide you on the best gear to suit your purpose.
Customers Who Viewed This Item Also Viewed